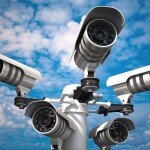 We provide customized security solutions that will meet your requirement and budget. We have a different variety of sophisticated and innovative CCTV cameras, IP cameras,Bio-Metric(face recognition / fingerprint) access control systems and time attendance systems.
An IP camera system consists of IP cameras, the right lenses, the proper enclosures, the network, and the video recording system. IP camera systems are used in businesses, schools, hospitals, the government, the military, and other organizations. Whether you need to purchase one IP camera or an IP camera system integrated with a door access control system or intercoms, we provide free consulting, excellent pricing, and support.
Unlike other identification solutions such as passwords, verification by email, selfies or images, or fingerprint identification, Biometric facial recognition uses unique mathematical and dynamic patterns that make this system one of the safest and most effective ones.
Our Security and Surveillance Products
CCTV Security Camera
IP Camera
DVR
Access Control System
Security Alarm System
Time Attendance Systems
Bio-Metric System
Gate Automation and Barrier System
Video Door Phones
Video Conferencing Solutions
software development companies in pondicherry
software development companies in pondicherry,software development company in pondicherry, website designing company in pondicherry, software companies in pondicherry, software companies in chennai, software companies in villupuram