CMS Development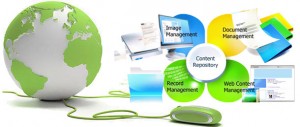 Our CMS(Content Management Solutions) mean you never have to train your employees to upload a piece of content. This will help you combat attrition issues more smoothly because new recruits need not be trained to operate the content management system. It is so easy that anyone can add, delete or modify existing content.
Custom Content Management Solutions
In today's competitive online marketplace, it is incredibly important for any business to keep their website content fresh and updated. Content management system can be defined as a web-based application that allows website owners/administrators to update their site content easily with web forms in a rich text environment. An ideal CMS application should demand very little or no HTML programming skill from its users, it should be easy to learn, and easy to operate.
Why LeMeniz Infotech for CMS Solutions
We are at focus on developing Customized CMS for our clients that will meet the client's specific online business objectives. We come up with custom CMS after carefully analyzing the demand of the website. We provide a broad range of CMS applications that blend perfectly with your software systems or any other existing third party solutions
Depending on the end users requirement we can develop custom content management system solutions for small businesses for carrying out basic content management involving updating content, image, and incorporating other elements. Our custom CMS can be applied for the entire website or just for one section or page.
We can also provide implementation services for customizable content management system with the ability to manage enterprise-level website. These systems can be used to integrate Multi-lingual support, Region-specific modifications, Dynamic Form Creation, Hierarchical Access Rights, and Work flow Management
Integrated Content editing tools for adding, modifying, and removing content, menus, and sub-menus
Support for maintaining exclusive document and media library
Options for restricting/allowing content to registered site visitors only along with multi-user authoring/editing
Features for maintaining workflow and content approval between authors and editors
Single-sourcing option that enables the editor to use the same content in other applications
Easy file and image manager that makes image uploading and incorporating easy and quick
Version Control features to avoid clashing changes